Indian College Forum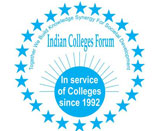 Introduction
The Indian College Forum has been setup by the Society for Education and Economic Development with the objective to bring the colleges of the country on a single platform to deliberate upon the issues of development of the colleges in the country and to make suggestions on the development of the collegiate education.
Objectives
The Forum was setup in the year 1992. To be precise the objectivc of the forum are as follows :
Provide a common Platform to the Principals of Colleges at All India level to discuss issues of development of the collegiate education in India
Make policy recommendation regarding development of Colleges based on considered opinions of the principals of the colleges and on the basis of scientific studies
Provide common place for exchanging ideas, sharing of experiences, views, and for training of key personnel for the development of colleges in India
Work for promoting the academic interest of Principals, Teachers, Students of Colleges and other groups connected with collegiate education in India.
Eligibility For Membership
All the Colleges recognized by the Universities and University Grants Commission can become members through serving principal of the college. In the case of retirement, etc. New Principal would become member automatically (unless and otherwise communicated by either side) till the membership of the college lasts.
Membership Fee
One time registration Rs.10,000/- and Annual Subscription Rs.5000/ Only.
About ICF PPt | Brochure of ICF | Application Form
Annual Conference of Indian College Forum
ICF has conducted 22 Annual Conferences on themes of importance in higher education at different places in the country. The themes of conferences and places these have been conducted are given below:
First Conference: Development of Higher Education Quality and Resource Aspects Delhi.
Second Conference: Governance of Colleges Panaji, Goa.
Third Conference: Vocationalization and Restructuring of Undergraduate Courses Chandigarh.
Fourth Conference: Industry College Linkage Pondicherry
Fifth Conference: Challenges of Governance and Career Orientation of College Education Delhi.
Sixth Conference: Shifting Paradigms of National Development : Role of Colleges in Development and Transmission of Knowledge Bangalore.
Seventh Conference: Future Challenges of Development of Colleges Pune.
Eighth Conference: Challenges Before Higher Education in 21st Century Amritsar.
Ninth Conference: Response of Colleges to Future Challenges of Quality in Higher Education Jaipur.
Tenth Conference: Hopes & Challenges in Development of Higher Education under Globalization Chennai.
Eleventh Conference: Colleges Towards Excellence and International Competitiveness Hyderabad.
Twelfth Conference: Positioning Colleges for Building India as a Knowledge Society Meerut.
Thirteenth Conference: Role of Higher Education in Development of World View and Values Among Youth Rajkot.
Fourteenth Conference: Perspective of Development of College Education in Knowledge Economy Dehradun.
Fifteenth Conference: Education, Economy, and Sustainable Development Udipi, Karnataka.
Sixteenth Conference: Reforming Higher Education in the Context of Globalisation Coimbatore
Seventeenth Conference: Higher Education in India: The Developing Dynamics Shillong, Meghalaya.
Eighteenth Conference: Higher Education for Innovations & Change Jammu.
Nineteenth Conference: New Policy and Planning Strategies for Development of Colleges in India Kerala.
Twentieth Conference: Higher Education for Development of Economy & Society Through Research and Innovations Patiala, Punjab.
Twenty-first Conference: Challenges of Development of Higher Education through Public and Private Universities Jorhat, Assam.
Twenty Second Conference - Higher Education for Bridging the Gap between Rural and Urban India , Jodhpur, Rajasthan
Conference reports click here
18th National Conference of ICF | 19th Annual Conference of ICF