Indian Colleges Forum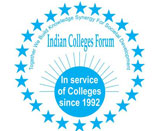 Introduction
Indian College Forum was established in 1992 by the Society for Education and Economic Development, New Delhi The main purpose of the forum is to: (i) bring colleges of India on a single platform so as enable them to deliberate upon the issues of development of the colleges in the country, (ii) Enable heads of colleges to collectively discuss the policy and other facilitating/ obstructing factors in the development of colleges, (iii) Enable member colleges to benefit from their experiences in management and development of colleges. ICF to: (i) help and support colleges to achieve academic excellence and social relevance, (ii) organize conferences/seminars and leadership development programs to share and discuss the latest development in the field of higher education nationally and globally, (iii) share opinion and views of the members and experts with the relevant authorities at the state and national levels.
Objectives
The objectives of the forum are to:
Provide a common platform to the Principals of Colleges at All Indian levels to discuss the issues of development of collegiate education in India and share the developments in higher education within India and in the world
Undertake scientific research studies for assessment and development of collegiate education and its linkage with development of economy and the society
Make policy recommendations about the development of Colleges based on scientific studies and the considered opinion of the principals of the colleges;
Provide an opportunity to Principals and leaders of higher education for exchanging ideas, sharing of experiences, views on the development of higher education and linking it with national and global development;
Organize seminars/national level conferences annually and global conferences occasionally
Organize leadership development program for Principals of Colleges and other key personnel for the development of colleges in India
Work for promoting the academic interests of Principals, Teachers, Students of Colleges, and other groups connected with collegiateeducation in India.
PROGRESS
THERE IS 500+ COLLEGES MEMBER OF ICF FROM ALL OVER INDIA.
ICF HAS HELD 25 ANNUAL CONFERENCES IN DIFFERENT PARTS OF THE COUNTRY AND ON IMPORTANT TOPICS ABOUT THE DEVELOPMENT OF COLLEGES AND HIGHER EDUCATION.
IT HAS HELD TWO INTERNATIONAL LEVEL CONFERENCES.
ORGANISED FIVE LEADERSHIP DEVELOPMENT PROGRAMMES FOR PRINCIPALS OF COLLEGES
ORGANIZED THREE BATCHES OF INTERNATIONAL DIPLOMA IN EDUCATIONAL LEADERSHIP -H IGHER EDUCATION PROGRAMME FOR PRINCIPALS OF COLLEGES. PRINCIPALS VISITED UNESCO AND OTHER ORGANIZATIONS IN PARIS, FRANCE, AND NETHERLANDS
ORGANISED PROGRAMME ON USE OF NEW MEDIA IN HIGHER EDUCATION
Eligibility For Membership
Any College- affiliated, autonomous, constituent, associated, and recognized by the university, UGC, AICTE, NCTE, BCI can become a member of the Forum
Tenure and representation: of the College:
Membership is permanent and is of the institution. Chairman / Principal of College represents the Member College
Membership Fee
One time registration Rs.10,000/- and Annual Subscription Rs.5000/ Only.
Governance of ICF
National Level Committee of ICF -15 members - To be constituted by representative of State Secretaries (12), Nominated by President SEED (2), Nominated by working President ICF (1)
State Level Committee of ICF - 5members - State Secretary -1 Nominated on seniority basis/elected by members, Members-3 to be nominated by State Secretary, 1 member to be nominated by working present.
District Level Committee of ICF - 3 members to be nominated by state secretary -1, I by District Secretary-2
MEETINGS
At least two meetings by each committee annually as per convenience.
Funds for ICF: Membership Fee, Donation, specific purpose fee/ donation, grants from Government.
About ICF PPt | Brochure of ICF | Application Form
Annual Conference of Indian College Forum
ICF has conducted 25 Annual Conferences on themes of importance in higher education at different places in the country. The themes of conferences and places these have been conducted are given below:
First Conference: Development of Higher Education Quality and Resource Aspects Delhi.
Second Conference: Governance of Colleges Panaji, Goa.
Third Conference: Vocationalization and Restructuring of Undergraduate Courses Chandigarh.
Fourth Conference: Industry College Linkage Pondicherry
Fifth Conference: Challenges of Governance and Career Orientation of College Education Delhi.
Sixth Conference: Shifting Paradigms of National Development : Role of Colleges in Development and Transmission of Knowledge Bangalore.
Seventh Conference: Future Challenges of Development of Colleges Pune.
Eighth Conference: Challenges Before Higher Education in 21st Century Amritsar.
Ninth Conference: Response of Colleges to Future Challenges of Quality in Higher Education Jaipur.
Tenth Conference: Hopes & Challenges in Development of Higher Education under Globalization Chennai.
Eleventh Conference: Colleges Towards Excellence and International Competitiveness Hyderabad.
Twelfth Conference: Positioning Colleges for Building India as a Knowledge Society Meerut.
Thirteenth Conference: Role of Higher Education in Development of World View and Values Among Youth Rajkot.
Fourteenth Conference: Perspective of Development of College Education in Knowledge Economy Dehradun.
Fifteenth Conference: Education, Economy, and Sustainable Development Udipi, Karnataka.
Sixteenth Conference: Reforming Higher Education in the Context of Globalisation Coimbatore
Seventeenth Conference: Higher Education in India: The Developing Dynamics Shillong, Meghalaya.
Eighteenth Conference: Higher Education for Innovations & Change Jammu.
Nineteenth Conference: New Policy and Planning Strategies for Development of Colleges in India Kerala.
Twentieth Conference: Higher Education for Development of Economy & Society Through Research and Innovations Patiala, Punjab.
Twenty-first Conference: Challenges of Development of Higher Education through Public and Private Universities Jorhat, Assam.
Twenty Second Conference - Higher Education for Bridging the Gap between Rural and Urban India , Jodhpur, Rajasthan
Twenty Third Conference - Challenges before Higher Education in Emerging Fourth Industrial Revolution, Hyderabad, Telangana
Twenty Fourth Conference - Higher Education for Empowerment of People and Development of India; Jamshedpur, Jharkhand
Twenty Fifth (Silver Jubilee) Conference - Transforming Higher Education to Meet Future Challenges, New Delhi
Conference reports click here
18th National Conference of ICF | 19th Annual Conference of ICF | 25th Annual Conference of ICF
Leadership Development Programs
Seed -ICF organized five leadership development programs for College Principals drawn from various parts of the country. It oriented about 125 principals of colleges in Information Technology and Management of Colleges as well as on the aspects leading the colleges to develop effectively and innovatively
1st Leadership Development Programme for Principals for Colleges on IT for Development and Management of Colleges from 10th - 14th March 2000
2nd Leadership Development Programme for Principals for Colleges on IT for Development and Management of Colleges from 16th - 20th December 2000.
3rd Leadership Development Programme for Principals for Colleges on IT for Development and Management of Colleges from20th - 24th October 2001.
4th Leadership Development Programme for Principals for Colleges on IT for Development and Management of Colleges from 18th - 22nd May 2002.
5th Leadership Development Programme for Heads of Colleges/Institutions of Higher Education on IT, Quality Assurance, Vocational, and Career Orientation and working towards Potential for Excellence from 12th -17th October 2003.
International Diploma in Educational Leadership-Higher Education:
International Diploma in Educational Leadership- higher education. - Three batches have completed the Diploma. Three batches of participants visited UNESCO and OECD offices in Paris, France. They also went to Maastricht School of Management, Netherlands.
New Media and Technology Programme
Leadership Development Programme - 3 day workshop for Director, Deans, and Principals of Colleges on New Media, New Technology, and innovations for improving quality of higher education from 21-13 rd December 2016 at Habitat Centre, New Delhi.
Leadership Development Programme - 3 day workshop for Director, Deans, Principals of Colleges on Managing Excellence and Innovations in the emerging Fourth Industrial Revolution from 28-30 December 2017 at Matangi Conference Room, SEED, Mandi. New Delhi 110047
Publications: College Post -Higher Education Journal and Conference and Study Report